CLEAR DERM
Vitamin A & B Serum with anti bacterial & anti inflammatory. Clears and calms, treating infection, inflammation & scar tissues / nVitamin A + B
15mL / 30ml AVA Twist
Ingredients: Aqua (Harmonized Water), Lecithin (Phosphatidylcholine), Niacinamide, Mandelic Acid (L), Chlorella Vulgaris Officinalis Extract, ManukaEssential Oil, KunzeaEricoidesEssential Oil,Retinal (.02% Retinaldehyde), Lactic Acid (L), EpilobiumAngustifolium Flower/Leaf/Stem Extract, 1,3 Beta Glucan, RubusChamaemorus (Cloud Berry) Seed Oil, ChamomillaRecutita (Matricaria) Flower Extract, CucumisSativus (Cucumber) Fruit Extract, OleaEuropaea (Olive) Leaf Extract, OcimumBasilicum (Basil) Leaf Extract, Tea Tree Oil, Rosemary Extract, Xanthan Gum
Skin type:Oily / Acneic / Prone to breakout
Benefits: Vitamin A + B serum with anti-bacterial & anti-inflammatories. Clears & calms, treating infection, inflammation & scar tissue / normalises oil
Application: 1-2 pumps to clean skin as STEP 2: AM & PM normalises oil.
PIGMADERM
Reduces pigment formation and calms the skin. Excellent skin lightening formula with pigment blockers.  Lightening Complex
15mL / 30ml AVA Twist
Purified Aqua (Water), Hamamelis Virginiana (Witch Hazel), Glycerin*, Niacinamide, Kakadu plum extract,Caprylic/Capric Triglyceride, , Licorice extract, Xanthan Gum,Phyllanthus Emblica (Amla) Fruit Extract,  Alpha Arbutin, Glycyrrhetinic  Acid, Ellagic Acid, Glutathione (L), Fructooligosaccharides (D-beta),  Gluconolactone,  Phytic Acid, Magnesium Sulphate, Magensium Chloride, Potassium Sorbate
Skin Type: Pigmented / Acneic Benefits: reduces pigment formation& calms
Application: Can use as step 2 to spot treat or apply all over daily 2 weeks PRE Rx to inhibit POST inflammatory pigment formation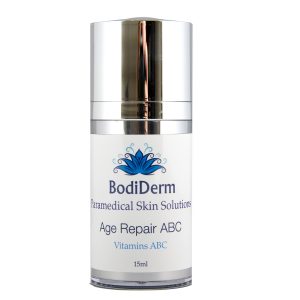 AGE REPAIR ABC SERUM
Vitamins ABC
15ml / 30ml
Ingredients: Aloe Barbadensis Leaf Juice, Aqua (Water), 3% Niacinamide, 1% Ascorbyl Tetraisopalmitate, Sweet Almond Oil, Cyclodextrin, Caprylic/Capric Triglyceride, Gluconolactone, Carnitine (L), Glycerin, Polysorbate 20, .5% Retinal (Retinaldehyde), Phenylethyl Resorcinol, Tocopheryl Acetate (D-alpha), Bisabolol (L-alpha), L-lactic Acid, Panthenol, Potassium Sorbate, Sodium PCA, , Rubus Chamaemorus (Cloud Berry) Seed Oil, Porphyra Umbilicalis (Red Algae) Extract, Vaccinium Macrocarpon (Cranberry) Fruit Extract, Citrus Aurantium Bergamia (Bergamot) Fruit Oil, Maltodextrin, Michelia Alba (Magnolia) Flower Oil, Sodium Lactate, Polysorbate 20, Hydrolyzed Marine Collagen, Carbomer, Triethanolamine, Rosehip, Evening Primrose & Jojoba Oils, Apple & Melon Fruit Extract, Sorbitol, Butylene Glycol, Phenoxyethanol, Caprylyl Glycol, Ethylhexylglycerin, Beta-Glucan, Portulaca Extract, Seaweed, Grapefruit Seed & Green Tea Leaf Extract, Lonicera Caprifolium & Japonica (Honeysuckle) Flower Extract, Lecithin, Citrus Aurantium Dulcis (Orange) Peel Oil*, Citrus Grandis (Grapefruit) Peel Oil, Glycine Soja (Soybean) Oil, Rose Water, Pentylene Glycol, Alcohol, Xanthan Gum, Citric Acid, Sodium Benzoate, Benzoic Acid, 1,2-Hexanediol: Fragrance – Natural & Essential Oil Blend.
Skin Type: Normal / Sun Damaged / Sensitive / Inflamed
Benefits: Calms & instigates epidermal remodelling. Stimulates collagen & removal of scar tissue
Application: 1-2 pumps to clean skin as STEP 2: AM & PM
HYDRASILK
Increases moisture retention and hydration. Stimulates the production of ATP, keratin and collagen. Strengthens the skin matrix and restores skin elasticity. Reduces the depth of winkles on the face caused by the contraction of muscles of facial expression, especially in the forehead and around the eyes.
Ingredients: Purified Aqua, Sea mineral complex, Sodium PCA, Hyaluronic Acid, Acetyl hexapeptide 8, Gluconolactone, Potassium Sorbate, Sodium Benzoate, Vanilla Oil
RESCUE SPRAY

Immediately calms heated, atrophic skins.  Contains Hyaluronic acid gel , beta glucan, chamomile, plus cucumber for anti inflammatory and wound healing. Use after treatments on red and inflamed skin or when traveling for extra hydration.
Anti-inflammatory Aid
50ml AVA cap
Ingredients: Harmonised Water, Chamomile Water (German Blue) Rose Water (Bulgarian) 1,3 Beta Glucan, Hyaluronic Acid, Willow Herb,Tryptophan, Valine, GABA, Copper Gluconate, Zinc Oxide, Ornithine, R-Lipoic Acid, Cucumber
Skin Type: All skin types in need of calming & healing
Benefits: Immediately calms heated, irritated skins. Assists wound healing
Application: Spray liberally as needed to cool & soothe