Dermaplus Hi Skin multifunctional skin care device has eight functions for all skin types and problems. It is the best choice for skin clinics and beauty  salons. Dermaplus Hi Skin is equipped with many of the most commonly used functions including cleaning, hydrating, lifting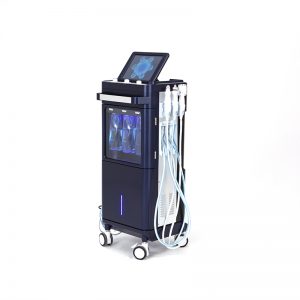 and firming, acne, dead skin removal, & skin analysis.
Cool RF uses an intelligent epidermal cooling system. By pre-cooling the epidermis, most of the RF energy is pushed to the deeper layers of the skin. While protecting the epidermis from burns the heat energy is concentrated in the deep layers of the skin to stimulate collagen. The two functions of RF and Cold hammer can be used separately. The handpiece can also be used as Cold hammer alone to shrink pores, calm the epidermis, and eliminate local redness.
Polymer Atomizing Spray Handle – Combined with liquid products the liquid is converted into a mist-like substance by high pressure atomization and then quickly delivered into the dermis with a high-pressure spray.
Plasma technology can be effectively used for sterilization, redness and treats acne. Bipolar radio frequency is used to improve fine lines at the corners of the eyes, remove bags and dark circles under the eyes.
New nano-microwave technology to open the skin channels with micro-wave to effectively enhance the skin's absorption of nutrients and solves skin absorption.
The high-definition skin detection probe uses a  high-definition camera with 2,000,000 pixels and a resolution of 1280 * 1024, which can clearly observe the true condition of the skin and pores
Remove dead skin with high-frequency vibration waves, remove black- heads, soften skin keratinocytes, for total cleansing of the skin.