Laser Tattoo Removal Machine
PICOWAVE LASER
Dermal Solutions has a brand new Picowave Laser that fires in Pico Seconds and not Nano Seconds like ND Yag Q Switch Lasers. The benefit and advantages compared with traditional ND Yag Lasers (nano seconds ) is that the new Picowave Laser is 100 times faster. It fires in a trillionth of a second so as a result the picosecond laser system breaks up tattoos faster than traditional lasers. Picowave Lasers will shatter even tiny ink particles making it easier for the body to clear the ink. The laser is the best on the market to treat pigmentation without the risk of overheating the skin so will not cause the melanin to be overstimulated resulting in return of the pigment. Picowave lasers will therefore treat skin problems associated with all dermal skin lesions effectively.
The ultrashort pulses also optimise the delivery of energy to the targeted ink particles ensuring the ink is effectively treated.  Only a tiny amount of heat gets transferred into the skin causing minimal discomfort throughout the procedure.
FLAT TOP HAT BEAM
A new flat top hat beam ensures that the energy is delivered efficiently to maximise effect while minimising damage to the surrounding tissue.
ADVANTAGES
SOUTH KOREAN ARM – WORLD CLASS
HIGH QUALITY LASER SOURCE
VARIETY OF HANDPIECES AND WAVE LENGTHS
FLAT TOP HAT BEAM
HIGH PEAK POWER
AIMING BEAM 635NM
300 PICOSECOND SHORT PULSE WIDTH
2 – 10 MM ADJUSTABLE SPOT SIZE
TECHNICAL PARAMETERS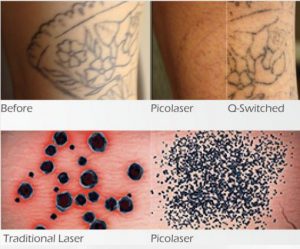 1064nm, 532nm standard- 585nm, 650nm, 755nm, Fractional – optional handpieces
Energy: Max 1GW ( 1064nm) Max 0.50 GW ( 532nm )
Frequency: 1 – 10 Htz
Spot Size Zoom: 2 – 10 mm adjustable
Aiming Beam: Diode 635nm Red with adjustable brightness
Cooling Closed Circuit: Water to air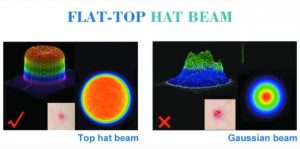 LETS COMPARE – PICOWAVE IS FAR SUPERIOR TO OTHER LASERS !
 
Candela
Cynosure
Quanta
Picowave
Wavelength
1064/532nm
755nm (532nm optional)
1064/532nm
1064/532nm/ 755nm/585nm/650nm/ Fractional
Pulse width
450ps(1064nm)
550-750ps
450ps
300ps
375ps(532nm)
370ps
Energy
400mJ(1064nm)
165-200mJ
800mJ(1064nm)
1 GW(1064nm)
200mJ(532nm)
300mJ(532nm)
0.50GW(532nm)
Frequency
1-10Hz 200mJ
 
1, 2, 5, 10Hz
1-10Hz
Spot size
2-10mm
2-6mm
Max. 8mm
2-10mm
TREATMENT FOR SKIN

Acne marks clearance
Brighter and tighter skin due to collagen stimulation
Reduction in fine lines
Pigmentation removal / reduction
PicoWave vs PicoSure: An honest comparison
Picosecond lasers are the next generation of laser tattoo removal system. The promise is faster tattoo removal with less pain than Q-Switched nanosecond laser. Picosecond laser systems have been on the market for a few year and results have been second to none.
NUMBER OF WAVELENGTHS
PicoWave: 532nm, 755nm, 1064nm, 585nm, 650nm & Fractional handpieces
PicoSure: 532nm (laser pump handpiece), 755nm, 1064nm (laser pump handpiece)
PicoWave has 3 wavelengths that operate at full picosecond power and speed.
PicoSure has a natural 755nm wavelength and uses laser pump handpieces to convert to 532nm and 1064nm. This conversion drops the energy and compromises the effectiveness of the wavelength. Wavelength determines the penetration depth of the laser in the dermis, the pigment colour the laser can treat and the skin type the laser can operate on.
ENERGY
PicoWave: 532nm @ 0.50 GW, 1064nm @ 1GW
PicoSure: 532nm (spec not released), 755nm @ 750ps, 1064nm (spec not released)
Picosecond is a measure of time. 1000ps = 1 ns (nanosecond). The lower the number, the faster the laser is. PicoWave has the fastest operating laser in the world at 300ps. The speed of the laser is what generates the photoacoustic shockwave (mechanical energy) to shatter the ink pigment. Q-Switched nanosecond lasers use photo-thermal energy to heat the ink pigment to fracture the ink. Heating the ink is less effective
PicoSure operates at 750ps which is only 25% faster than 1000ps (1 nanosecond). This means PicoSure still rely mainly on heat to remove tattoos. The heat is also the reason why the recovery times are the same as nanosecond laser. No specs are released on the laser hand pump converted 532nm and 1064nm.
PEAK POWER
PicoWave: 532nm @ 0.50gw, 1064nm @ 1.00gw
PicoSure: 532nm (spec not released), 755nm @ 0.36gw, 1064 (spec not released)
ND YAG LASER – Q SWITCH TATTOO REMOVAL LASER
Nd Yag lasers  treat tattoo removal, permanent makeup, freckles, yellow / brown coffee spots, and age spots. Treats black, green, blue, yellow, red and brown tattoo ink. Shorter session times required. The machine has three split screens so will also treat vascular lesions and skin rejuvenation as an added bonus to the Q Switched Laser. This Laser is rated as a Class IV – Clinic owners must be licensed in various States to be qualified to use the Laser. Please ask us today about courses and certification in Laser Tattoo Removal. The laser device contains two treatment heads: 1064nm & 532nm. The 1064nm head is used for blue or black pigmentation and the 532nm head is for the red, yellow and brown pigmentation. The machine will treat tattoos, permanent makeup, freckles and yellow / brown / coffee spots, birthmarks and age spots. There is a water cooling system in the laser device for cooling down the laser light for client comfort. The soft ware of the laser has two main functions, to allow the operator to select the best individual parameters for each patient.
FEATURES
Latest technology, energy output is higher, no need to calibrate manually, more reliable and longer life time
Accurate treatments that will not damage normal tissue
No downtime
Significant performance without side effects
Accurate energy output with a safe operating environment
Advanced integrated cooling system with water, air & semiconductor
Module design – easier to check – upgrade and maintain
TABLE TOP VERSION

Laser Type Q switched Nd YAG Laser
Screen: 12.4 inch full colour touch screen
Laser wavelength:1064nm & 532nm
Pulse energy:0 – 900mj & 0- 300mj
Pulse width:<12ns
Repeat frequency:1、2、3、4、5 、6HZ (0.5 – 3 Hz optional)
Light conducting method: conducted directly from the laser outlet
The light spot diameter of the laser output 1 – 6 mm adjustable
Environment temperature:5℃~40℃
Relative humidity:≦70%
Weight 25 kg
Cooling system: Installed circulating water cooling+ air cooling.
LARGE VERTICAL MODEL

Laser Type:Q switched Nd YAG Laser
Screen 12.4 inch full colour touch screen
Laser wavelength:1064nm & 532nm
Pulse energy:0 – 1200mj & 0 – 400mj
Pulse width:<10ns
Repeat frequency:1、2、3、4、5 、6HZ (0.5 – 3 Hz optional)
Light conducting method: conducted directly from the laser outlet
The light spot diameter of the laser output 1 – 7mm adjustable
Environment temperature:5℃~40℃
Relative humidity:≦70%
Cooling system: Installed circulating water cooling+ air cooling.
Weight 48 kg
Unique design – Quality Handpieces with removable tips
CALL DERMAL SOLUTIONS 07 54 754312