DERMATONE – RF CAVITATION MACHINE
Dermatone is a four in one RF Machine with Ultrasonic fat cavitation. This new concept in RF skin tightening allows the operator to also treat the eye area, never before seen in RF technology. The unique small RF handpiece has been designed solely for the eye areas to shrink and tighten delicate skin close to the eye.
Dermatone has a larger facial RF handpiece with a new vacuum suction to pull the skin firmly while administering RF to the area for even greater tightening. This brand new concept has proven to demonstrate far better clinical results in skin tightening.
Dermatone RF Cavitation equipment provides a larger 40,000 Hertz ultrasonic fat cavitation handpiece for the ultimate in fat blasting. Medical grade treatments ensure shorter duration for the client during the procedure in as little as 5 to 10 minutes to target areas.
RF SKIN TIGHTENING
Dermal Solutions offers you the latest in RF Skin Tightening Systems. These systems also can incorporate Ultrasonic Fat Cavitation for  fat blasting areas of the body.
Our machines are used to tighten the skin at a much deeper level with Bipolar RF and results are achieved in a few short sessions.
They can be used on all skin types and there is no pain or downtime. The machine causes no burning sensation as has a cooled tip for superior client comfort. Treatments can be performed weekly with long term results lasting up to five years.
Our machines are extremely advanced and offer three cooling systems for client comfort. The large head or spot size offers two options for small areas under the eyes and around the mouth plus a larger tip for stomach, buttocks and thighs.
We offer you a full colour LCD touch screen with a treatment menu plus user manual and training.
Our latest state of the art  RF machine transmits thermal energy through a cooled epidermis for superior tightening and removing wrinkles.
The treatments are not limited by colour and there is no down time. It is a non invasive wrinkle removal and skin tightening machine that can be used on most parts of the body.
You have the choice of IPL with RF in one or you can purchase them separately. These machines are also available in desk top or stand up versions at very competitive prices with full parts replacement for 12 months. We also have local technicians for any repairs.
RF Skin Tightening is a new technique for skin lifting and contouring with no surgery. Amazing results are seen after one or two treatments and can last for up to 5 years. RF treatments are suited for the people who may have experienced some skin sagging and lack of firmness resulting in looser and wrinkled appearance.
RF Skin Tightening works to generate new collagen for up to 6 months after the initial treatment and to tighten the deeper dermis resulting in an improvement in skin texture, tone and contour. RF skin treatment is perfectly suited to treat the sagging of the jawline, face, eyes, tummy arms and legs. There is no downtime and treatments are pain free.
How does it work?
RF Skin tightening is a radio frequency sound wave that is safe and non-surgical that gently heats the collagen fibres immediately tightening them. New collagen is stimulated by the fibroblasts in the deeper layer of the skin over the next few months. The radio-frequency also improves blood flow and lymphatic drainage thereby encouraging a better oxygen supply and toxin removal to further reduce the effects of ageing.
 How does the treatment feel?
The gentle warmth experienced during treatment is similar to a hot-stone massage – very soothing and pain free. There is an immedia
te improvement of the tightening of the lax or loose skin and the improvement continues for up to 6 months after the treatment.
Do I need more than one treatment?
RF treatment is a gentle non-surgical procedure and as such your technician will gently treat your problem areas. It is advisable to have a few treatments over a 6-8 week period for the ultimate results to allow the deeper layers to rejuvenate and regenerate
DERMATITE RF MACHINE
Accessories :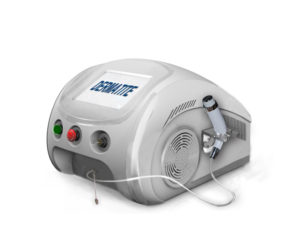 Bipolar RF Handpiece
Power Cord
Foot switch

User manual                                             
Options:
Standard:  1 x Bipolar RF Hand
Optional: Tripolar
Specifications
| | |
| --- | --- |
| Treatment Heads | 15mm, 32mm, 40mm |
| RF Energy | 0 – 100 J/cm3 |
| RF Applicator | Bipolar |
| Output Mode | 1 – 8 Levels |
| Operation Frequency | 1 or 100 MHz |
| Mode of Operation | Continuous |
| LCD Screen | 10 inch 24 multi-colour touch screen |
| Cooling System | Water cooled, Air Cooled and Inter Cooled |