SHR  Laser & IPL Machines
TRIWAVE LASER HAIR REMOVAL MACHINE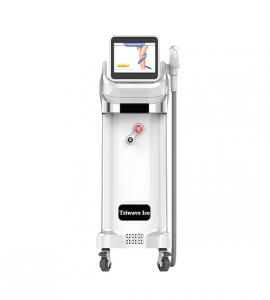 Triwave is a new diode laser that delivers three wavelengths in one to treat all skin types and hair colours. The three wavelengths combine and are delivered through a 1200 watt powerful cold treatment handpiece for pain free hair removal. 1064nm, 808nm & 755nm are combined together for the best form of hair removal. Other lasers can only deliver one wavelength but Triwave Lasers have superior technology to produce the most efficient results in hair removal. Triwave is more effective as it carefully selects the correct amount of each wavelength depending on sex, hair thickness, colour and skin type.  The operator moves the handpiece up and down the skin with gel with a circular motion to the target area. Hair follicles will be destroyed instantly to eradicate unwanted hair painlessly and permanently.
Call Dermal Solutions Australia: 0753242266
SPECIFICATIONS
Wavelength: 1064nm, 810nm, 755nm
Screen: 10.4 Inch Full Colour LCD
Max Output: 129 J/CM2
Pulse Width:1 – 200 ms
Spot Size: 12 x 12 mm
Frequency: 1 – 10 Htz
Input Power: 3000 w
Output Power: 1200 w treatment head
100 Million Shots
USA Laser Stack Head
Waterproof Sapphire Crystal Handpiece
Alma Laser Connector
Dual Internal Filter System
SHR / SSR LASER TECHNOLOGY MACHINE
The new system combines laser technology and the benefits of pulsating light to remove hair at a faster more effective rate. Difficult hairs can be treated through In Motion technology for operator speed, patient comfort and better protection of the skin.
Why? It provides a gradual thermal rise to the target therapeutic temperature without risk of injury. It eliminates the common problem of missed or skipped areas with comprehensive coverage to legs, arms and backs.
Normal IPL with Multipulse modes focuses energy on one pulse, so it is easy to burn the client, however, SHR emits a single pulse mode for safer treatments. The SHR filtered violet light and infrared light will absorb water targeting the skin with no side effects.
SHR accelerates operation speed and shortens the time for treatments with 1 – 10 HZ.
Moving the head along the skin with a faster repetition rate of shots fired per millisecond requires less time per treatment. This is a combination of laser technology mixed with IPL so no down time, no burns, better results, faster treatments and no pain for client comfort.
The SHR / SSR machine comes in different combinations to suit client needs.
SHR / SSR ( no filters required – rolling heads for speed )
SHR / IPL  (filters need to be used on the IPL handpiece – SHR rolling head )
SHR/ SSR / RF ( skin tightening head )
SHR / IPL / RF (skin tightening head )
SHR / SSR  – LASER TECHNOLOGY – COLD TREATMENT HEAD
    TGA Listed /  FDA / ISO and  European Medical CE certified.

    Pain Free – Cold handpiece technology allows for pain free hair reduction treatments.

    The speed of the equipment is faster and more effective

    Powerful technology –  Faster Shots – Less Heat

    More Capacitors – No waiting time during treatments

    American Xenon lamps offer superior treatment

    Continuous pulse width and length for superior performance – SHR Rolling Head

    Professional On Site Training – Qualified Trainers – Government Accredited Courses

    Free Marketing Material  – Starter Pack included

    Finance available – Flexirent Options

    On-going service, support and further training
Our medically engineered equipment offers your clients the latest state of the art machines that are affordable yet capable of the most high end professional treatments.  SHR rolling hair removal systems treat most skin types and hair colours including red and blond hair. They will also treat skin types 1 – 5 with great results to keep your client's skin looking younger and more vibrant. The anti – ageing protocol will help with collagen renewal, fibroblast production, pigmentation and vascular lesions. Delivered by one of the most powerful equipment available.
TRAINING:  Dermal Solutions offers clinic owners training courses that are government accredited in IPL and Laser or a certificate course in SHR Training and  Laser Safety is $3500 plus gst.
FINANCE:   Option are available to approved applicants to rent, lease or buy.  Payments can be tailored over 2,3,4 or 5 years and are 100% tax deductable. A deposit may be required for new business but may no be required for existing business's.
Offers you fast easy finance with an online form for loans over $5000 with repayments up to 84 months if required. No face to face meetings, so finance is fast and affordable. You can apply for machine purchasers plus training or course fees
What am I purchasing?
How do I compare Specifications and pricing?
Am I buying an inferior or superior machine?
What to look for:
Strong amount of heat Joules/Fluence 1-50
Fast Repetition 1-10 Hertz
Continuous Shots 1-60 seconds without stopping
Rolling heads with Sapphire Crystal.
Cold Treatment Head Minus 4 degrees
Pulse Widths 1-20 MS (SHR)
Treatment Handpieces 1 Million Shots
SSR 560nm-950nm
SHR 690nm-950nm
2500 Watts
15X50 Spot size for both SHR/SSR
Air cooled, Intercooled, Water Cooled system
German Motors, Japanese Parts, American Xenon Lamp
8.4 Inch Colour Touch Screen
6 Capacitors
14 hr Continuous Working Time
Inferior Quality Machines
1-25 Joules/Fluence
Pulse Width 1-15ms
Cold treatment head minus 2 degrees
Treatment Handpieces 300,000 shots
SSR 570-950nm
SHR 650-950NM
15X50 Spot size for SHR, 12X33 Spot Size for SSR
3 or 4 Capacitors
4-6 hr Continuous Working Time
Fire in Pulses not Hertz
IPL MACHINES
The Dermalite Portable IPL offers 3 different wavelengths for hair removal, 640, 690, 755nm for blonde, red and dark hair removal treatments. The large spot size of 15 x 50 offers operator ease in treatments with a very cold treatment head.  The integrated cooling system is the best on the market today reaching -5 degrees for superior comfort and speed.
Applications
1. Hair Removal
2. Pigmentation Removal
3. Vascular Treatments – Spider Veins
4. Skin Rejuvenation
5. Acne Treatments
Specifications
Handpieces: 1 x IPL or 1 x SHR
Pulse Energy: 10 – 50 J/cm2
Pulse Sequence: 1 – 20 Pulses – adjustable
Pulse Delivery: 2 – 60 ms
Spot Size Options: 8 x 40, 12 x 40, 15 x 35 – (15 x 50 SHR Optional 690 – 950 NM )
Pulse Width: 2 – 20 ms
Filters: 420, 530, 560, 640 – 1200nm, 690 / 750 – 1200nm optional
Full Colour 10 x 4 cm Touch Screen
SHR Repetition Rate: 1- 10 HZ
SHR Shots: 1 – 60 seconds
SHR Energy: 1 – 36 jcm/2 or 1 – 50 jcm/2
Operating Interface: New Pre Programmed Touch Screen ( Pulses, Skin Type etc)
Options: IPL – ELIGHT – SHR
Cooling Head: New Triple Cooling System For Treatment Head
Adjustable Cooling Head
Integrated Skin Cooling: -4 to 0 degrees
Cooling System: Water, Forced Air & Semi Conductor Cooling
American Xenon Lamp with 100,000 shots maximum, 300,000 shots for SHR
TGA, ISO, FDA, CE Medical Device Class IIA approvals
One Year Extended Warranty Parts Replacement
Client & Operator Goggles
Manual & Large Carry Case
8.4'' intelligent touch screen interface system, easier to operate with standard and professional mode
Filters coated by advanced film plating to make it more effective
Self-inspection system
Light protective handpiece – will not shoot if filter inserted incorrectly
Every treatment method has high performance from extensive clinical studies
Accurate energy output, to meet ideal operating environments
Advanced integrated cooling system with water & air & semiconductor
Modular design  -easier to check, upgrade and maintain.
CALL TODAY FOR FURTHER INFORMATION:  07 54 754312